Khaleel Hussain fatally injured while mother shopped, court hears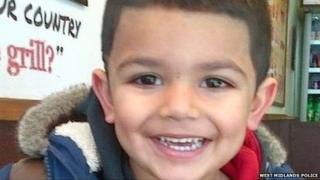 A jury has heard how a two-year-old boy died from a brain injury allegedly inflicted by his mother's partner while she was out shopping.
Khaleel Hussain, of Coventry, died on 22 October 2013 at Birmingham Children's Hospital.
The court heard his mother, Samina Kauser, had left her home in Richmond Street, Coventry for about 35 minutes.
She denies causing or allowing his death. Her partner, Keith Brown, 23, from Swan Lane, Stoke, denies murder.
The prosecution claimed the boy's injuries were probably caused by shaking.
The jury heard how in October 2013 Ms Kauser, 25, allegedly found her partner leaning over the toddler's bed, his hands either side of him.
He was shaking the bed and a duvet was being held over the child's face, the court was told and the two-year-old was unusually quiet afterwards.
'Bleeding eyes'
Five or six days later Ms Kauser left her home to go shopping, the jury was told, leaving the boy at home with Mr Brown.
It was during the time she was out that Khaleel is said to have suffered a serious brain injury, consistent with shaking, impact or both, which the prosecution said was deliberately inflicted by Mr Brown.
The child was taken to the University Hospital Coventry and died the following day in Birmingham Children's Hospital.
The jury also heard medical evidence suggesting Khaleel suffered bleeding into his lungs and eyes caused by the earlier duvet "smothering" incident.
The prosecution claim Ms Kauser should not have left her son alone and unsupervised with her partner.
Mr Brown had been "heavy handed" with Khaleel occasionally, and that he thought the child "whinged" and cried, the court heard.
The trial at Warwick Crown Court continues.