Coventry jobs boost as Covpress buys UYT in £30m deal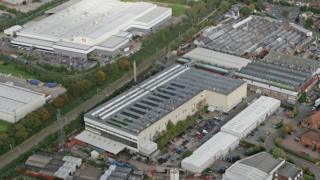 Up to 100 new jobs are to be created by an engineering firm in Coventry after a £30m deal to buy a fellow manufacturer.
Covpress said its takeover of UYT would also safeguard 400 jobs at the latter firm, which supplies car components to firms including Honda.
The deal was struck by Covpress's Chinese owners, the Yongtai Group.
Kit Halliday, chief executive of the company, said there was a "natural fit" with UYT, which is based next door in Canley.
"We've been pressing their parts now for 15 years, so we know the company quite well," he said.
"They're considered one of the best in Europe."
Expansion plans
He said UYT's Japanese owners had approached the Yongtai Group about a takeover and said the deal was "not a difficult decision".
Covpress makes body panels for Jaguar Land Rover (JLR) and Renault, among others, and exports parts across the world.
It currently employs about 700 staff, but said the UYT deal would mean 100 extra staff would be needed to support expansion over the next two years.
Covpress has invested some £25m since 2013 in both new equipment and jobs.
The takeover means it will employ a combined workforce of more than 1,000 in Canley.