Claire O'Connor killer Aaron Mann 'quit mental health treatment'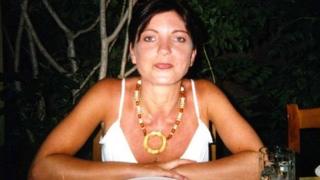 A man who kept his partner's body in a car boot after killing her had ended mental health treatment days before, a review revealed.
Aaron Mann also murdered Claire O'Connor after police arrested him four times over claims he was violent towards her, the report said.
Mann, of Nuneaton, Warwickshire, then 33, was jailed for life in 2013.
The danger Ms O'Connor was in had been clear, the Nuneaton and Bedworth Safer Communities Partnership review said.
"There was a history of domestic abuse and clear evidence that the victim was at risk of serious harm", author Kathy McAteer said.
'Heard voices'
Her report has made 37 recommendations to 14 agencies involved in the case, including Warwickshire Police, which is to review its policy on dealing with high-risk domestic abuse cases.
Mann had been receiving support from mental health services for depression and suicide attempts before the killing and had been admitted for treatment, but discharged himself against medical advice on 22 December 2011, the review showed.
It also revealed he had been arrested but not charged in connection with four domestic abuse incidents, including assault occasioning actual bodily harm and criminal damage, threats to kill and theft in relation to the victim and common assault with a previous partner.
He also had 12 previous convictions involving 24 offences, Ms McAteer said.
At his trial Mann, of Church Road, Nuneaton, admitted manslaughter, claiming he had been hearing voices when he strangled her.
But a jury at Warwick Crown Court convicted him of murder and he was ordered to serve a minimum of 16 years in prison.
Ms O'Connor's body was found in the parked car on Montana Walk, Nuneaton, on 2 January 2012.
'Specialist investigators'
In connection with the domestic violence however, the review stated Ms O'Connor would usually withdraw the complaints police investigated.
"There wasn't sufficient evidence to take them [complaints] forward at that time," Det Chief Insp Richard Young said.
There were also regular attempts by support agencies to help her but "she did not see herself as a victim and was clear about her decision to decline support", believing she could "handle" Mann.
The report said police arrived at Ms O'Connor's home in April 2011 to take a statement about an earlier incident to find Mann decorating the property, in contravention of his bail conditions.
In a statement, police said: "We have reviewed our risk assessment and case management processes and have strengthened processes to ensure that, where appropriate, specialist teams lead cases from the outset.
"In addition, we have incorporated extra measures in our officers' training and guidance to emphasise that cases involving a breach of bail conditions should be treated as an indication of high risk."
Actions have been taken to strengthen working practices between agencies, to better support people affected by domestic violence and abuse, the review panel concluded.