Coventry city centre could be 'quartered' - into nine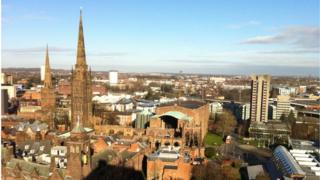 A blueprint for how Coventry city centre could look for the next 20 years has been published by the council.
The Area Action Plan breaks the city into nine "quarters" for business, shopping and leisure.
The council said there was a "disparity" between Coventry's size and the quality of its city centre, which it wants to improve.
If the plan is approved by councillors, the authority will launch a consultation period on 27 February.
'Piecemeal development'
It aims for formal adoption by the secretary of state in early 2016.
The council said Coventry was the country's 13th biggest city, in terms of population, but its retail centre was ranked only 58th.
It said the city centre plan, which will be shaped to tie in with the wider Local Plan, aimed to stop "piecemeal development" in the city, which has been going on since World War Two.
The plan includes "established" proposals, such as Friargate, City Centre South and the completion of Belgrade Plaza, but also suggests the city should have more residential provision, around Corporation Street and Fairfax Street, and better parking.
It also recommends the city be divided into nine "quarters", including a "cultural quarter" and a "health and learning quarter".
Planning policy manager Mark Andrews said the plan gave Coventry the chance to think about the city centre in a "more coherent way".
"There's a lot of underused space and there are clear opportunities to provide new homes in the city centre."
He added the council was "fully committed" to protecting the city's remaining heritage.
The nine proposed "quarters":
The Business Quarter - Friargate
Cathedrals and Cultural Quarter
The Civic Quarter
Far Gosford Street Quarter
Health and Learning Quarter - Swanswell
Leisure and Entertainment Quarter - Sky Dome and Belgrade Plaza
Primary Shopping Quarter - the retail core
Technology Park Quarter - Parkside
University and Enterprise
Urban planner David Tittle said: "In some ways this plan is long overdue.
"But it doesn't necessarily automatically make things happen - the council still needs to get investment in the city."