Council backs £1.1m Rugby 'birthplace' World Cup fund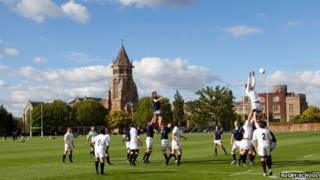 More than £1m is to be invested in the town of Rugby, Warwickshire, in an attempt to attract tourists for the Rugby World Cup in September.
According to folklore, the game was born at Rugby School in 1823.
Rugby Borough Council said the funding, approved on Monday, would reinforce the town as the "birthplace" of the sport.
However, opponents of the Conservative group, which leads the authority, said the money would be better spent on local services.
Heather Timms, in charge of economic development and culture at the council, said the £1.1m would be used to create a "fanzone", including big screens to show matches.
She said improvements would also be made to car parks and public artwork would be commissioned.
'Pure speculation'
The money is expected to come from council reserves and the authority said it thought much of it would be recouped from sponsorship and other income.
Ms Timms added the investment would benefit residents and businesses "long after the tournament has gone".
Rugby Trade Unionist and Socialist Coalition said the money should have been used to counter cuts to services such as youth clubs, libraries and care homes.
Peter McLaren, from the party, said: "Rugby council may claim this money represents an investment as it will boost tourism but that is pure speculation, a gamble with our money, especially as the town will, unfortunately, not be hosting any world cup matches."