Staffordshire youth club cuts were 'easy target'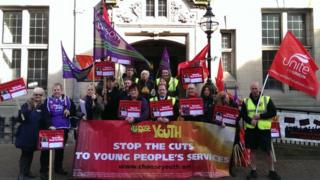 Protesters claim a council has targeted youth services in their county for cuts because they are an "easy target".
Staffordshire County Council controversially closed 33 youth clubs at the end of 2014 in a bid to save £2.8m.
Jack Taylor, lead campaigner for Save Staffordshire Youth Services group, said the closures were "sad news for Staffordshire".
But the council said many young people did not use the services.
'A brick wall'
The plans, which were approved by the council in March, were the subject of a 16,000-name petition and protests outside the council's offices.
The council said 180 jobs would be lost in the closures - which amounted to 400 posts, many part-time.
Mr Taylor, who helped organise a number of protest rallies across the counties, said: "We are not going to let this lie with the council and we are putting up a big fight.
"This is very sad news for Staffordshire and I don't think we will ever have our youth services back, but at least we can go out saying we tried our best.
"The council thought youth services would be an easy thing to cut and they have come up against a brick wall."
The council has said only a quarter of the 73,000 young people in Staffordshire made use of the authority's youth clubs.
It said there was still a range of funding available to support community activities where people want or need them.
Mark Sutton, the council's cabinet support member for social and health care, said: "Thousands of young people in Staffordshire are already doing a vast amount through sports clubs, voluntary groups, the performing arts and uniformed organisations, and we will help people find and use these groups."