Coventry University Hospital smoking ban 'uncaring', say campaigners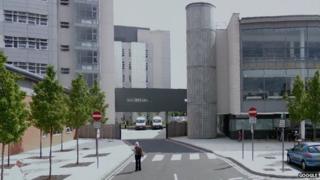 A hospital's plan to ban smokers from its grounds has been branded "uncaring" by campaigners.
Coventry University Hospital has said that, from New Year's Day, people found smoking in its buildings and grounds could be escorted off site by security staff.
The hospital said the ban would also apply to e-cigarettes and is based on Department of Health guidance.
But pro-smoking group Forest said the ban was unfair to some patients.
'Stressful places'
The University Hospitals Coventry and Warwickshire NHS Trust said the move followed complaints from people about having to walk through a "cloud of smoke" to get into hospital.
It said it would not impose fines for people contravening the rule but those who ignored the ban could be removed from the premises.
The ruling will also be enforced at a second hospital run by the trust - the Hospital of Rugby St Cross.
Will Overfield, the stop-smoking services manager at the University Hospital, said: "We do try to advocate for people to give up smoking to improve their health."
He said the ban on e-cigarettes would be subject to review.
"The Department of Health guidance says there is no substantial data proving the beneficial effects of e-cigarettes," he said.
In a statement, the trust added that e-cigarettes were "unregulated nicotine products".
"The effects of their use on smokers and those around them are not yet known," said a representative.
Simon Clark, the director of Forest, said other hospitals had found similar rulings very difficult to enforce and that the ban was unfair.
"Hospitals are quite stressful places, not just for patients but also for visitors and staff," he said.
"To say to people you can't light a cigarette anywhere in the grounds is rather uncaring."