Coventry's Royal Court Hotel in food hygiene fine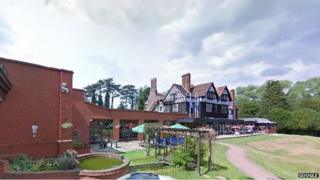 A Coventry hotel has been fined £25,400 after pleading guilty to six food hygiene offences.
Food safety inspectors found the Royal Court on Tamworth Road, which is owned by Britannia Hotels, failed to wash up dirty room service dishes promptly and kept jugs of sour milk and dried-up sauce in its walk-in chiller.
The findings were made during a routine inspection in November 2013.
Britannia did not respond to a request for a comment.
'Horrify visitors'
Magistrates at Nuneaton Justice Centre heard the hotel had failed to maintain an adequate food safety management system.
Inspectors said there was a build-up of food debris, broken glass, crockery, and utensils on the floor beneath shelving and work surfaces in the dishwasher area.
The sink was dirty and a piece of tinfoil was being used as a plug.
Storerooms were dirty, cupboards were mouldy and inspectors found a large locked oil container in the yard was caked with grease, which "could attract rodents", they said at the hearing on Tuesday.
Patricia Hetherton, from Coventry City Council's regulatory committee, said: "The catalogue of food hygiene issues found in our routine inspection will absolutely horrify visitors to the hotel who should quite rightly expect they are being entertained in a clean and safe environment."