Coventry community backs charities after cuts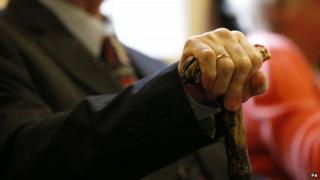 Following council budget cuts to some services of about 25% and 40%, Coventry's Age UK and Mind say they are seeking new ways of fundraising and are helped by the "vital" work of volunteers.
Despite facing funding reductions, Coventry's branch of Mind will still open its doors for four hours on Christmas Day.
"Christmas and New Year is a difficult time for people with mental health problems," said Kay St. Clair, the head of Coventry and Warwickshire Mind.
Mrs St. Clair, who has worked for the charity for 25 years, said it was having to evolve following funding cuts and one result was a reduction in hours for its drop-in centre at Wellington Gardens.
Volunteers, including from church groups, have also provided a means of plugging the gap - ensuring that Christmas dinners will be provided for about 30 people at the centre.
Sky dives
Mrs St. Clair said the charity's 150 volunteers were "vital" and without them some services would be quite difficult to run.
"We are having to rely more and more on fundraising and there has been a lot - including sky dives for us and craft fairs. We are having more and more of that and it does take a lot of time," she said.
A staff member has been seconded into a community fundraising role for two days a week to seek new ways of raising money to help.
Meanwhile, Coventry Age UK has recruited a fundraising director with 30 years' experience of raising cash for charities.
Vic Sheret, appointed director of fundraising, marketing and trading two years ago, said: "Historically, Age UK Coventry has not needed to fundraise and has relied on statutory funding and council funding."
'Not sexy case'
He said Age UK was a "difficult cause" to raise money for.
"I think the challenge is that older people are not perceived to be a sexy case. People will give money to help children or animals or to causes which have touched their lives in some way. But all of us have elderly relatives," he said.
Working with a fundraising officer and volunteers, Mr Sheret has been tasked with raising about £200,000 over three years.
His work has included marketing initiatives and "engaging with the community" through the charity's website, social media and literature.
Part of his work involves the Christmas hamper and present appeal, where businesses and residents donate hampers and items for about 250 vulnerable older people.
"There's been a lot of support from the community itself, a lot of people want to give a little bit. A few donations arrived this morning - such as £30 and £25 cheques - just to help out people over Christmas," he said.
"As far as corporate fundraising goes, it is a bit more difficult as there are so many charities competing for a small piece of the pie."
The charity's head, Michael Vincent, said its information and advice service, which included helping people with their benefits, and Contact and Connect referral service had "not been able to help as many people" following a 25% council funding reduction in April.
However, he said fundraising and sales through its shop and campaigns had generally "meant services had been maintained", although the charity had started to dip into its reserve funds. He pointed out it ran 15 other services not supported by council-funding.
Mrs St. Clair said 40% cuts to Coventry Mind's housing-related services meant 19 staff, including 12 support workers, were made redundant. She said it meant clients had seen their time with workers reduced but the charity had "reconfigured services" to try to meet demand.
"We have had to deliver support in different ways, such as telephone support and by encouraging people to make much more use of our drop-in centre," she said.
The Labour-run council said the cuts to the 2014/15 budget were part of £5m savings which were necessary as a result of government spending cuts.
In October, the city council further warned of "unprecedented" cuts to services as it attempts to tackle a £65m shortfall by 2018.
A spokesman said it was proposed the city's voluntary sector would see a £0.7m reduction in grants in the 2015/16 budget, rising to £1.2m thereafter but there "was no detail yet of what each organisation will get at this stage".