Motorists prosecuted for photographing M6 lorry fire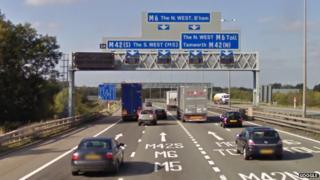 Motorists who took photos of a lorry fire on a West Midlands motorway have been prosecuted by police.
Warwickshire Police said about 80 motorists have been sent letters saying they were seen taking photos of the fire near junction 3a on the M6.
"They can either pay a £100 fine and have three penalty points put on to their licences or contest the case in court," a spokesman said.
The offence was "driving while using a mobile phone", police said.
A police spokeswoman said so far no-one had elected to go to court.
Details of the fire on 6 June were tweeted by the force on Wednesday.