Coventry special needs school transport cuts axed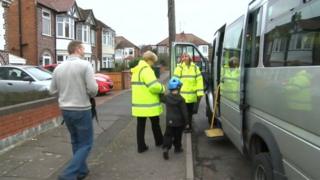 Children with disabilities in Coventry will not lose free school transport after a U-turn by the local authority.
Coventry City Council had proposed training children in how to use public transport instead of using taxis or special buses.
The measure could save £420,000 as part of £15m cutbacks by the authority.
Now the councillor responsible for education, David Kershaw, has promised there will be no changes to free travel in next year's budget.
He said the service will continue while the council "continues to work closely with parents, carers and children on the implication of proposed changes to the travel policies".
The plan, which was due to come into effect next September, would have affected about 270 children with special needs or disabilities.
Mr Kershaw said he had spoken to concerned parents and further consultation was needed to identify a way to provide "a more efficient and appropriate service that is right for everyone".
The council needs to make savings after the money it received from central government was cut by 37% over the past five years.
An online survey about the issue will run until 23 January.