Stratford-upon-Avon Swan Theatre restoration plan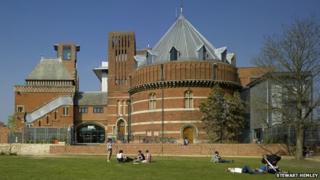 A theatre in Stratford-upon-Avon is to be restored under £4.8m plans by the Royal Shakespeare Company (RSC).
Brickwork and lead windows around the entrance to the Swan Theatre will be given a facelift.
Some of the parts are all that remains of the original Shakespeare Memorial Theatre, which burnt down in 1926.
Work is due to start next month and finish in 2016, in time for the 400th anniversary of Shakespeare's death.
Bas reliefs on the exterior of the building, which depict stories from Shakespeare, and stained glass windows will also be conserved.
Geraldine Collinge, RSC Director of Events and Exhibitions, said: "Many of the original elements have been hidden over time and we want to bring these back for the local community and visitors to enjoy."
The project is being funded through a £2.8m Heritage Lottery grant. Further money is coming from the Wolfson Foundation and the Garfield Weston Foundation.
The Swan is due to remain open throughout the restoration of its Grade II* listed wing, which dates back to 1879.
The RSC also expects to reopen The Other Place as a studio theatre in 2016, while an exhibition is planned to coincide with the anniversary.