Australian family missed visa deadline 'through injury'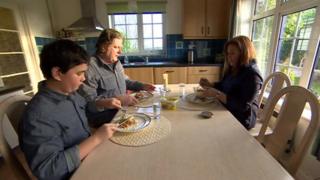 An Australian family face deportation from the UK because they missed the deadline to extend their visas when the father was injured on a trip home.
The Puchys, of Harborough Magna, Warwickshire, are pleading with the government to reverse its decision.
Father Andrew Puchy said he missed cut-off for submitting the visa renewals because he was stuck in Brisbane with a broken knee and told he could not fly.
The Home Office said applications were considered on "individual merit".
'Lose friends'
The family's appeal, which cited exceptional circumstances, was rejected and the family must now leave the country by 6 December.
The Puchys, who have a business in UK producing plastic mouldings, moved to Warwickshire six years ago and have been in the country under a renewable work permit.
Mr Puchy said: "Ultimately we met and still do meet all the requirements of the visa except for the date that we lodged the application and that was caused by circumstances which were completely beyond my control."
His son William, 12, said: "I'll lose all my friends at school, I'll lose my [music] scholarship and I'll lose the beautiful surroundings of England."
The Home Office confirmed the family's application has been rejected.
A spokesperson said: "All applications are considered on their individual merits and in line with the immigration rules.
"When someone is found to have no right to remain in the UK we expect them to leave the country voluntarily. Where they do not we will seek to enforce their departure."