The Christmas Truce war play opens at Royal Shakespeare Theatre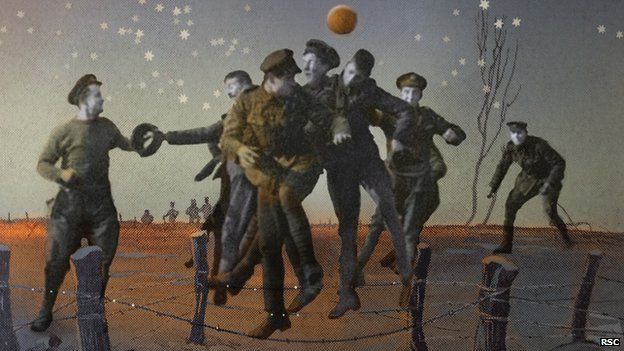 A play inspired by tales passed down by soldiers who took part in the Christmas truce of World War One has opened in Stratford-upon-Avon.
The Christmas Truce at the Royal Shakespeare Theatre tells the story of a group of young Warwickshire men.
Soldiers in 1914 left their trenches to meet their enemies in No Man's Land.
One of the "key sources" for the play was an account by Capt Robert Hamilton, from Stratford-upon-Avon, the Royal Shakespeare Company (RSC) said.
Capt Hamilton's grandson Sir Andrew Hamilton, from Warwick, was one of the play's historical consultants, and the RSC said playwright Phil Porter had "stuck quite closely" to the family's recording of the sequence of events from Christmas Eve to Boxing Day.
Mr Porter attended a drop-in event at the theatre in March, in which members of the public with family memories brought photos and medals and told their stories.
One woman's great-grandfather from the trenches offered phrenology readings - reading people's personalities from their head measurements - to his mates, so this aspect was later included in the play, the RSC said.
An RSC spokesman said: "Phil seeing photos brought along to the drop-in event helped him to visualise his fictional characters when he was writing the play."
According to the Imperial War Museum, late on Christmas Eve 1914 men of the British Expeditionary Force heard the Germans singing carols, messages were shouted between the trenches and the following day British and German soldiers met in No Man's Land.
The truce is also the basis for supermarket Sainsbury's current Christmas TV advert.
The play opened on Saturday evening and will run until 31 January.
Related Internet Links
The BBC is not responsible for the content of external sites.