Coventry City Council's service cut plans 'horrify' residents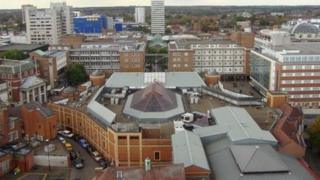 Libraries, youth centres and Christmas lights are facing cuts as a council aims to tackle its budget shortfall, a new report has revealed.
Coventry City Council said its government grant for 2015 had been reduced to £135m, from £214m in 2010.
Its pre-budget report outlines more than £15m of savings, including reductions in staff costs.
A campaigner trying to save her local library said residents were "horrified".
'Losing services'
The report, due to be discussed by councillors on 2 December before going to public consultation, suggests a number of options to enable the authority to save money.
They include closing public toilets, reducing street cleaning, scaling back Christmas lights and reducing the city's annual Godiva festival to an event that runs every other year.
A cut of £1m could be made to parks budgets, alongside £300,000 from school crossing patrols.
The council has previously described the cuts as "unprecedented".
Damian Gannon, in charge of finance, said: "We're going to have to make some really difficult decisions about services and we've got to be really honest with local people about the impact of these choices.
"There's no doubt people will be losing services they've come to take for granted.
"We have to focus on making sure our most vulnerable residents - children and old people alike - continue to be protected."
Sheila Bannister, from Finham, has been campaigning to save the area's library.
She said: "People are absolutely horrified. This is the only facility we have in Finham. If that's taken away from us, the elderly are going to be stuck in their homes."
The Department for Communities and Local Government has previously said local authorities accounted for a quarter of all public spending and that government had delivered a "fair" settlement to every part of the country.