IRA bombing: Victim memorial planned for Coventry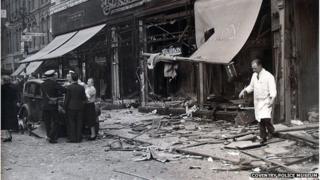 A memorial is to be erected to victims of a "forgotten bombing" in a British city.
The IRA attack on Coventry in 1939 left five people dead and around 70 injured but was overshadowed by the destruction inflicted on the city in World War Two.
A BBC investigation into the bombing, published to mark its 75th anniversary, included calls from relatives of the victims for a memorial in the city.
The city council said it hoped to erect a tribute by the end of the year.
'Reconciliation and peace'
Marie Jones, who lost her uncle Rex in the blast, said the progress on the memorial was "great news" and said the victims' relatives would be "thrilled".
"This 75th anniversary year has certainly brought the bombings back into the spotlight," she said.
It is hoped the memorial will be placed in or around Coventry's cathedrals, one of which was partially destroyed in WW2.
"The cathedral and the ruins of the old one are very moving," said Mrs Jones.
"The ruins would be a perfect place for a memorial as they represent reconciliation and peace."
Philip Townshend, deputy leader of Coventry City Council, said the authority was working closely with the Protestant community and the Roman Catholic Archdiocese.
"One of the options is a plate-glass tribute in a memorial chapel in the new cathedral. But we haven't ruled anything out," he said.
"I would really like to get something in place before Christmas. It's clearly been a matter of emotional distress to the families of those who lost their lives.
"But we are extremely optimistic this matter can be resolved for them."