Safety plans after crashes on Ansty Road, Coventry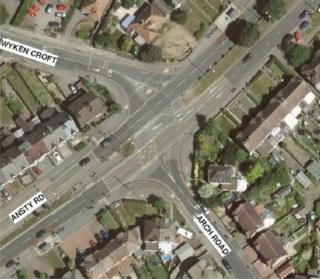 Councillors are discussing installing safety measures at a road junction in Coventry which has seen eight serious crashes in the past three years.
The incidents, including a fatal crash, happened at Ansty Road's junction with Wyken Croft, records show.
Five options are being considered, including introducing traffic lights, a mini roundabout or a signal stopping right turns out of Wyken Croft.
It follows an e-petition by residents who called for safety improvements.
The organiser of the petition wrote: "I have seen many accidents at the Ansty Road/Wyken Croft junction during peak times."
The council said the junction had a "poor record" and its report concluded the predominant factor in seven out of eight of the accidents "was drivers making a right turn manoeuvre either into or out of the junction".
The council recommended that one of its five options be included in budget calculations in the future.