HS2 Ltd pays for new Water Orton Primary School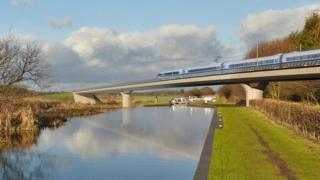 A primary school affected by the construction of the HS2 high-speed rail line is to relocate.
HS2 Ltd has agreed to pay for Water Orton Primary School in Warwickshire to move to another location in the village because it will lose part of its playing field.
Warwickshire County Council said the school would also face seven years of disruption due to construction.
The council said it would not reveal how much HS2 Ltd would pay out.
The school has 330 pupils and has recently been rated good by Ofsted.
Councillor Colin Hayfield said: "We have held talks with HS2 Ltd in an attempt to resolve many of our concerns, and are delighted that we have finally made a breakthrough and been able reach a satisfactory agreement on funding for a new primary school."
Construction of HS2 is due to start in 2017, with phase one from London to Birmingham due to be completed by 2026.
More than 30 miles (50km) will travel through Warwickshire.
The council said it expects to begin work on the new school sometime in 2018.