Jaguar Land Rover opens £1bn factory in China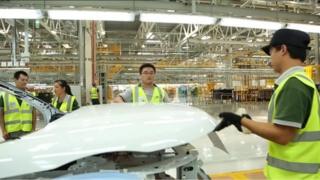 Car maker Jaguar Land Rover has opened its first factory in China.
The £1bn plant at Changshu has been opened with its Chinese partner, Chery Automobile, and is expected to produce up to 130,000 vehicles a year.
Dr Ralph Speth, Chef Executive of JLR, said China was the "biggest automotive market on earth" and firm was committed to China "for the long term".
Today China accounts for about 24% of the car maker's global sales, up from 8%, just four years ago.
Professor David Bailey, from Aston Business School said China could account for a third of JLR's global sales by the end of the decade, but it had faced extremely heavy import taxes.
"By assembling locally they can avoid that and expand their market there," he said.