Coventry school crossings to be handed over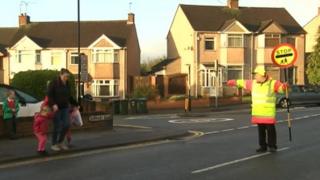 Schools in Coventry could be asked to fund crossing patrols as the local authority looks to save money.
Coventry City Council said they cost almost £400,000 a year, about £5,000 each.
A council spokesperson said talks were at a very early stage, but schools were in a better position to take them over.
"It would also offer them flexibility in how they provide the service with some on-going support from us," they said.
Some parents at Whitmore Park Primary said schools were already struggling to fund other facilities, and that crossing patrols were essential for safety.