Warwick Hospital midwife struck off over baby death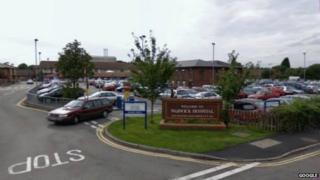 A midwife has been struck off over the death of a baby boy who suffered brain damage caused by a lack of oxygen during his delivery.
Kay Francis was responsible for the care of Daniel Kunigiskis, who died a few days after being born at Warwick Hospital in 2012.
The Nursing and Midwifery Council (NMC) heard how Ms Francis failed to notice the foetal heart rate had dropped.
Ms Francis was found guilty of misconduct after the hearing.
Daniel was transferred to the neonatal intensive care unit at Coventry's University Hospital but died four days later from a brain injury sustained during his birth.
Ms Francis also failed to properly risk assess Daniel's mother, Sarah Kunigiskis, the panel heard.
It also emerged Ms Francis had been responsible for previous care errors and a year earlier was ordered to complete 450 hours of supervised practice, which was later extended for a further 150 hours.
The panel heard Ms Francis had used a night light to carry out an examination on a baby, deemed inappropriate as the dimness would not have allowed for an accurate observation and assessment.
The baby was later admitted to an intensive care unit with an infection.
Ms Francis was also found guilty of failing to check the administration of a drug used to induce labour with a colleague, failing to record the medical observations of a patient and failing to complete a patient's birth summary and hand over the woman's risk factors.
In its ruling, the NMC said Ms Francis's failings had the "potential to put patients at an unwarranted risk of harm and to undermine the reputation of the midwifery profession and brought the profession into disrepute".
It was also concerned "there was a significant risk of Ms Francis repeating her errors".
Ms Francis has 28 days to appeal against the NMC's ruling.