Protest over Amington golf club closure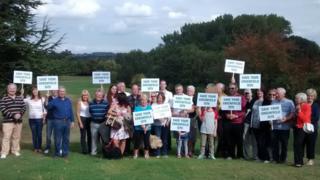 Campaigners fighting to keep a golf club open have been staging a protest, just days before it is due to close.
Tamworth Borough Council confirmed last month that Amington Municipal Golf Course is to close on 1 October.
After years of being council-run, the private firm that took it on in 2006 went into liquidation in 2013.
The council said it had invested in it since then but it was no longer viable. Campaigners said they feared the course would be turned into housing.
The 18-hole course was opened in the 1970s.
'Difficult decisions'
The protest, by about 30 members of Amington Residents Association, was held at the same time as the club's annual Memorial Day event.
John Rogers, from the association, said there would be no more golfing facilities left in Tamworth once the club closed.
He said the course, which covers more than 150 acres, used to be one of the best municipal courses in the country but had been left to decline in recent years.
"Amington is a densely populated area of Tamworth and they [the council] are talking about building homes on it," he said.
"We will lose our green space... I understand housing is needed, but it will just be an urban sprawl here... it's terrible."
Council leader Daniel Cook said income from the club was down by 40% in June compared to the same period last year.
"We re-opened the course in March 2013 but we just have not had enough members and players to justify the amount of money it is costing the taxpayer to keep open," he said.
"If we kept it open until April next year as originally planned it would cost an additional £62,000. To date, we have spent £300,000 on the course.
"At a time when we are facing financial cuts and need to make savings, we have to make difficult decisions to ensure we are protecting vital frontline services."