Coventry cars damaged in possible air gun spree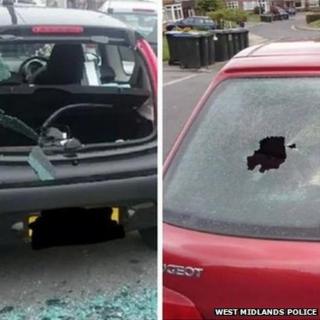 More than 50 vehicles have been damaged in Coventry, possibly by an air gun fired from a vehicle.
West Midlands Police said all 50 had smashed windows and officers were investigating a theory they could have been shot with an air weapon from a car, moped or bicycle.
The damage, mainly in Tile Hill and Eastern Green, happened on Tuesday night and Wednesday morning.
Police are appealing for CCTV footage from the affected areas.
Sgt Jane Howarth said: "Those responsible for this mindless vandalism need to understand that what they've done isn't funny - they've left a lot of people out of pocket and caused them a lot of hassle."
Police are appealing for witnesses and residents with CCTV footage from the Upper Eastern Green Lane and Sutherland Avenue areas.