Ashley Dodd admits child death hoax calls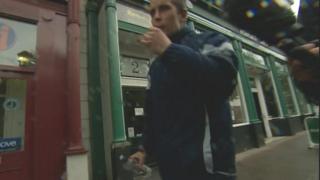 A man has admitted making hoax phone calls to eight families telling them their child had died.
Ashley Dodd, 28, rang his victims claiming to be a doctor at the George Eliot Hospital in Nuneaton, Leamington Magistrates' Court heard.
Dodd, of Hayes Lane, Exhall, Warwickshire chose his victims at random after he had been binge-drinking on 6 and 7 June, the court was told.
He admitted eight offences under the Malicious Communications Act.
Dodd was granted unconditional bail and is due be sentenced on 23 September.
He told the court he was "messing around" while drinking, but the court heard his actions caused families "shock and devastation".
'Ashamed and disgusted'
Some families took several hours to trace their children to discover they were well, the court heard.
Speaking after the hearing, Dodd, who is unemployed, apologised to the families involved and said he was "totally ashamed and disgusted" by his actions.
The court heard he had suffered problems with alcoholism and had been drinking a combination of beer and spirits on 6 June.
Dodd said he had planned to make a series of nuisance calls before deciding to go further.
He said he phoned families, posing as the fictitious Dr Peter Stevens, informing them that their child had died.
Det Con Michelle Russell, from Warwickshire Police, said the calls were "completely false and very distressing" and that she hoped the result of the hearing would help families "come to terms with what must have been a very emotional experience".
Bindy Hayer, one of the victims of the hoax, said after the hearing that she could make no sense of Dodd's behaviour.
"I still can't understand if you are drunk why you would decide to pick random numbers? That doesn't make sense to me at all.
"He said that it was a laugh. I mean how could he possibly think doing that is a laugh? I'm hoping the magistrates will deal with it in the right way."
In June, Mrs Hayer told how she went through "sheer hell" after receiving the hoax call about 02:00 BST.
She rushed to George Eliot Hospital expecting to have to identify the body of her 27-year-old son who had been on a night out in Birmingham.