Coventry IRA attack: 'Don't forget bomb victims'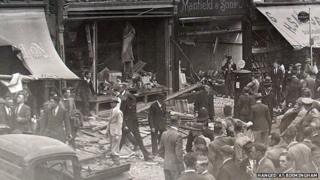 The families of people who died in an IRA bomb attack in Coventry in 1939 have called on the council to erect a memorial to the victims.
Five people died in the blast, in Broadgate on 25 August that year, but experts say the event was overshadowed by the devastation of World War Two.
Speaking on Monday - the 75th anniversary of the attack - relatives called for a plaque on Broadgate.
The council said it would "consider" the request.
'Nobody remembers'
Marie Jones, daughter of victim Rex Gentle's twin brother, said the story of the Coventry bombings was something she had "grown up with".
"It brings tears to my eyes and I never knew him," she said.
"Nobody in Coventry remembers the attack now. I would just like to see their names somewhere in the city."
"It's one of the worst atrocities there has ever been in Coventry and yet nobody remembers it," added Jane Bant, niece of John Arnott, 16, the youngest victim of the attack.
"There should be a memorial."
Dr David Stone, canon precentor at Coventry Cathedral, said: "With Britain on the brink of war in the late summer of 1939 and all eyes on the bigger picture, the devastating impact of the IRA bomb in Broadgate has been all but forgotten, even in Coventry itself.
"A permanent memorial would help us to recall the horrors of the past and so strengthen our resolve to celebrate the firm friendships we now have with former enemies."
City councillor Phil Townshend said: "We're happy to consider requests like this, but would want to consult carefully with the families of those affected and the Catholic and Protestant bishops of the diocese before proceeding further."