£20m Jaguar Land Rover technical centre to open near Coventry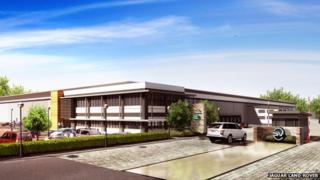 Car manufacturer Jaguar Land Rover has announced it is to open a £20m technical centre near Coventry.
The firm said 100 new "highly skilled" engineering jobs would be created at the 225,000 sq ft (209,000 sq m) facility in Prologis Park, Ryton.
It will focus on building limited edition and customised vehicles at the site.
Earlier this week, Indian parent firm Tata Motors said strong Jaguar Land Rover sales had boosted its profits.
The firm said the first vehicles to be worked on at the site would be released in mid-2015.