Row over Leamington FC ground traveller site plans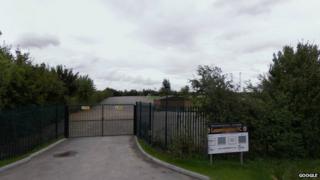 Plans to turn Leamington FC's ground into a traveller site should be dropped, club shareholders have said
Warwick District Council is looking for 31 permanent pitches for travellers.
The local authority is due to meet on Wednesday to decide a list of possible sites, including the New Windmill ground, near Bishops Tachbrook.
David Hucker said fellow shareholders would not agree the sale of the ground and it "should never have been put on the list".
He said: "It's owned outright by the club, there's no debt, there's no mortgage. There's no reason to sell it for something that might not materialise."
New Windmill has been the club's home since 2000 after being without a ground for 12 years when its former base was sold.
Jim Scott, chairman of the club, said discussions had been going on with the council about a possible relocation, but would not comment further.
'End of club'
The council said the failure to find enough traveller sites would undermine its local plan and "leave it exposed" when dealing with future planning applications.
Wednesday's agenda names Harbury Lane as a preferred site and said it could be available within five years.
Mr Hucker said he represented a group that collectively owns more than 52% of the club's shares and would not agree a sale, particularly in the council's timeframe.
Adrian Barton, chairman of the supporters trust, said the club had outgrown the current ground and a move could be beneficial, but only if a good sale price could be agreed and another suitable site was found.
"Five years wouldn't be enough time to find and construct a new ground," he said.
"If we only get the value of the land, it could be the end of the club. It's cost us possibly £750,000 to do that place up."