Henley-in-Arden station £2m revamp due to finish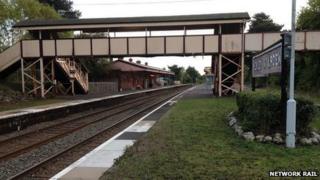 New lifts and a footbridge at a Warwickshire railway station will be working "early next week" after months of delays, London Midland has pledged.
A £2m refurbishment of Henley-in-Arden station, including a new bridge and improved disabled access, was expected to be completed by 23 May.
Network Rail said the bridge was still not in use due to delays in fitting CCTV cameras at the unmanned station.
London Midland said work would be finished "early next week".
Residents had criticised the wait, which followed an eight-year campaign for a new footbridge, according to Roger Hubbocks, chairman of Henley Parish Council.
Network Rail, which was working with London Midland, previously said it had to wait for suitable CCTV coverage to ensure the safety and security of passengers and to deter misuse and vandalism.