Warwickshire Yeomanry Museum re-opens after two-year closure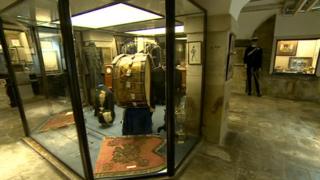 The Warwickshire Yeomanry Museum has re-opened after a two-year closure, which saw a complete refurbishment.
The former courthouse, where it is based, has been revamped, after it was given almost £368,000 in a Heritage Lottery grant.
It has taken 16 weeks to put back all artefacts in the museum, which is staffed by 25 volunteers.
Saturday's re-opening date was chosen to coincide with the 100th anniversary of the start of the Great War.
The museum houses clothing, weapons and medals charting the history of the regiment, which was formed in 1794 and served in the Boer War, Great War and World War Two.
It was amalgamated into the The Queen's Own Warwickshire & Worcestershire Yeomanry in 1956.
The revamp has included the installation of a lift to aid access between the museum - which is in the building's basement, the Tourist Information Centre on the ground floor and the ballroom on the first floor.
Margaret Haycock, whose husband Col Michael Haycock founded the museum 33 years ago, said: "In the mess and the drill halls there was quite a lot of uniform and swords which people were looking at.
"They were starting to deteriorate and he thought it would be nice to have somewhere to show them off and take care of them."
Terry Thompson, a volunteer at the museum for the past decade, said: "A lot of hard work has gone in behind the scenes for this re-opening."
He said the facility had been recreated "in the old style; none of this push button stuff".