Giant mantis robot at Coventry's Festival of Imagineers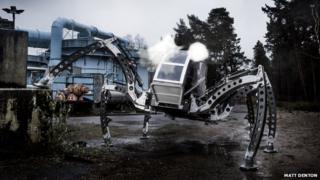 Thousands of people attended a festival showcasing feats of engineering and the creative industries in Coventry.
The first Festival of Imagineers was held in Broadgate and in the city's cathedral ruins on Saturday.
A hexapod "mantis" robot, operated by a driver in a cockpit and created by Matt Denton, was on show.
The event also included a procession fronted by the 20ft (6m) tall puppet of Lady Godiva created for the 2012 London Games.
A mechanical, free-flying hummingbird, created by the artists behind the Godiva puppet, was on display and there were street performances by artists and outdoor theatre companies.
Jane Hytch, chief executive officer of Imagineer Productions, the company which made the Godiva puppet, said: "We've had thousands of people attend.
"The feedback has been great and we shall probably be trying to have a much bigger event next year."
The event was supported by Arts Council England and Coventry City Council.