Coventry City Ladies Football Club will call the Ricoh Arena home this season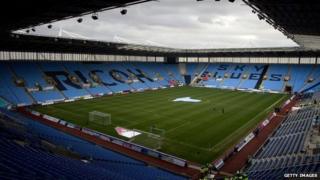 Coventry City Ladies Football Club has announced the Ricoh Arena will be its home for the 2014/15 season.
A deal has been sealed for the club to move from its current base at The Oval in Bedworth, around a mile away.
The men's club left the arena in a row over rents with the Ricoh's operators, Arena Coventry Limited (ACL).
Bill Newnes, the ladies club's chairman for two-and-a-half years, said the move had caused "some friction" between the two clubs.
'Commercially sensitive'
However he said the new base would raise the profile of the club as it staged around 11 home fixtures at the ground this season, predominantly on Sundays, and he hoped to strengthen links with the men's club in the future.
The ladies first team will play its home games at the Ricoh, while the reserves and six junior teams, including players aged nine and upwards, will continue to play at the Coventry University complex.
Mr Newnes, who first became involved with the club when his daughter Sophie, a GB martial arts fighter, played for the club, said he could not reveal the cost of renting the ground because it was "commercially sensitive".
The club holds the FA Women's Premier League Southern Division title and Birmingham County FA Cup.
The Sky Blues have played their home games at Northampton Town's ground, about 34 miles (54km) from Coventry, since August.