CCTV delays hamper Henley-in-Arden station revamp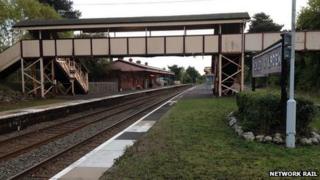 A new footbridge at a Warwickshire railway station remains closed, after delays in fitting CCTV cameras.
A £2m refurbishment of Henley-in-Arden station, including a new bridge and improved disabled access, was expected to open by 23 May.
Network Rail said delays in fitting CCTV cameras at the unmanned station meant the completed bridge and lifts could not be used.
Local residents said they were angry at the delays.
Roger Hubbocks, chairman of Henley Parish Council, said: "They fitted the bridge and they had problems with the paint, that was the first problem... then they had problems with the lift, that was sorted but we're still not working."
He said he and others had campaigned for eight years to get a new footbridge. Its forerunner has been given to a heritage line.
A spokesperson for Network Rail, which is carrying out the work, said: "As Henley-in-Arden station is unmanned and has had new lifts installed as part of the Access for All investment, we are working with London Midland to provide suitable CCTV coverage to provide safety and security for passengers using the lifts and to deter misuse and vandalism.
"We appreciate the delayed opening may cause frustration but we are working to open the bridge and lifts as quickly as possible."