Rugby shooting: 'Getaway car' details released and fourth arrest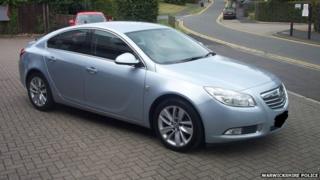 Details of the suspected getaway car used by a gunman have been released by police investigating a murder.
A man, thought to be in his 20s, was found with gunshot wounds in Newton Road, near Newton, Rugby, Warwickshire, on Friday morning.
Warwickshire Police said the offender was believed to have got into a Vauxhall Insignia which "drove away from the scene at speed".
The cars is said to be a silver/blue colour with the registration VK63 LWL.
Officers said the car made off from the scene along Newton Road and into Newton village and then to the A5.
A fourth person was arrested in connection with the fatal shooting on Saturday. The 19-year-old man from the Rugby area was arrested on suspicion or murder.
Two men in their 30s who were arrested on suspicion of conspiracy to commit murder have been bailed.
A woman arrested on Friday has been released with no further action being taken.
Newton Road remained shut on Sunday between the village of Newton and the junction with Newton Manor Lane.
Police have said this was a "targeted incident" and the victim's car had been forced off the road and into a ditch. A shotgun was used in the attack.
Anyone with information is asked to call police on 101 or Crimestoppers anonymously on 0800 555 111.