1,000 jobs to go at Coventry City Council in £60m savings bid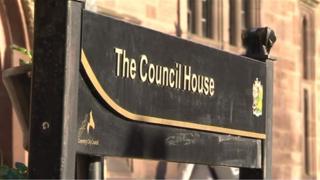 A total of 1,000 jobs will go at Coventry City Council as the authority eyes £60m savings by 2017-18.
The launch of a new voluntary redundancy and early retirement scheme will be discussed by the council's ruling cabinet on 5 August.
The latest job losses equate to one-in-six of the authority's workforce.
About 1,000 staff have already left the council since 2010 under similar moves. Councillor Damian Gannon said "the worst is yet to come".
"We are going to have to make some tough decisions over the coming months about the services we deliver to Coventry residents," said Labour councillor Mr Gannon.
"It makes sense to offer voluntary redundancy or early retirement to people who want to leave the organisation now.
"We want to minimise the need for compulsory redundancies."
He said the council would look to remove levels of management and more highly-paid senior posts first, in a bid to protect services.
Some posts will not be included in the move as they are in "high priority areas" - including social workers, some specialist education and social care posts and refuse collectors -where the council would need to replace any leavers.
A spokesperson for Coventry's Unison union branch said they believed any council reserves should be used to offset the job cuts and any underspend in the budget was "unacceptable"
A report to the council's cabinet recommends that the scheme opens to applicants for four weeks from 15 September.
The proposed launch of the move would first have to be debated by full council on 9 September.