Funeral row school blames computer for reward trip exclusion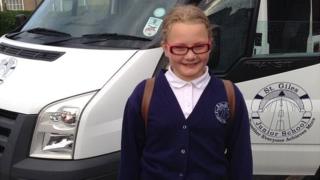 A school that barred a girl from a trip to reward good attendance after she took a day off for her mother's funeral has blamed a computer for the blunder.
St Giles Junior School in Warwickshire gave Maddie Stevens, 11, permission for the absence but then excluded her from the trip to a restaurant.
The school, which has now ended its reward policy, said its data system did not recognise reasons for absences.
Her father Andy Stevens called the school's reason a "copout".
The funeral of Maddie's mother, Gail, was in January, but the attendance reward trip took place last week.
'Easy way out'
Head teacher of St Giles Anne Perry said she was "truly sorry" and that the school "did not intend to upset or offend anyone who was unable to attend school for medical or compassionate reasons".
She said: "The data used to decide which children were eligible was produced by the government-backed data (SIMS) system that all schools use.
"It effectively identified those children who had solely achieved 100% attendance but did not report reasons for absence."
The school has since withdrawn its 100% attendance reward policy, she said.
Mr Stevens said: "I think it's a bit of a copout. The school knew of this before the end of term and they could've spoken to us before to explain.
"The school could've checked all the details beforehand. It's an easy way out to blame computers."
Mr Stevens said since her story had appeared in the media more than £2,000 worth of donations had been made to Maddie's fundraising page for Myton Hospice, where her mother died.
"If there's one good thing to come out of this it's that Myton can get some money, which it needs more than most," he said.