Warwickshire County Council criticised for 'amateurish' underspend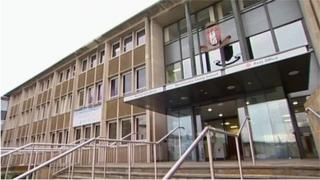 Critics have branded a cash-strapped council "amateurish" after it underspent £21m while facing cuts.
Warwickshire County Council, which faces a £92m budget reduction over the next four years, logged the surplus in 2013/14.
Deputy Labour group leader Richard Chattaway said: "Services have been cut that may not need to have been cut."
But the ruling Conservative group said the amount was small, compared to an overall £450m spend.
The Unison union suggested the money could be used to halt the proposed cuts to children's services, or the introduction of car parking charges for staff.
Its West Midlands spokesman, Tony Rabiaotti, said people in the county were "paying their tax to go to reserves while the services they are supposed to be getting are not being delivered".
'No slack'
The council's deputy leader, Alan Cockburn, said it aimed to reduce its annual budget by £92m over the next four years, so the £21m saved in 2013/14 was not a long-term solution.
He called the underspend a "fluctuation" and said: "It's mainly to do with government grants coming in late and we have no control over that."
"I think we need to tighten up our forecasting a little bit, but if it's going to be underspending, that's great," he added.
Earlier in the year the authority forecast an underspend of just £3.8m.
That figure is revised in a report due to go before members on Tuesday, which said such variations "should not reoccur".
Unison called the forecast error "amateurish" and said the council's cabinet needed to review all of its planned savings in light of the new figures.
Mr Chattaway said: "Last year I had meeting after meeting with [council] officers and they told me there was no slack in the budget... and then suddenly they are £21m out."