George Eliot Hospital comes out of special measures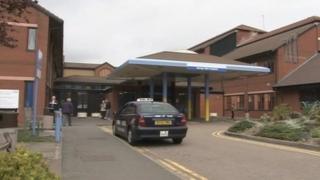 George Eliot Hospital in Nuneaton is to be taken out of special measures.
The hospital was one of 11 nationally placed in special measures last July after a review into hospitals with higher than expected death rates.
It was then criticised for its out of hours care and bed sores track record.
The NHS Trust Development Authority (TDA) is expected to approve the Care Quality Commission's recommendation to remove special measures in the next few days.
Hospital chief executive Kevin McGee said: "We are obviously delighted that all the hard work and dedication of staff over the past year in implementing a number of key changes has resulted in such a good outcome.
"We are however very mindful of the need to continue to review these changes and to build on the progress made in order to achieve even better patient care for the future."
'Excellent news'
The Department of Health said the hospital had made progress as it revealed plans to extend the special measures system to failing care homes.
TDA portfolio director Kathryn Singh said: "We are pleased that the trust will be leaving special measures and this is a significant achievement, attributable to the dedication and commitment of trust staff."
Bids had been invited from other NHS trusts and private firms to take on the struggling hospital.
But the TDA said earlier this year it would no longer face takeover.
Dawn Downes, the George Eliot Hospital UNISON Branch Secretary, called the recommendation to take it out of special measures "excellent" news.
"We are aware that this is not the end and we must strive to maintain our efforts and seek continuous improvement," she said.