Former Coventry sorting office could become apartments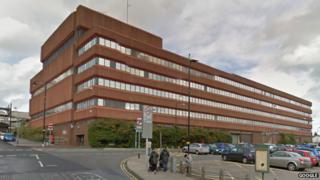 A £70m scheme to turn a former Royal Mail sorting office into flats has been unveiled.
A previous plan to turn the Bishop Gate site in Coventry into a shopping centre was scrapped by the developer Barberry, because it could not attract a major supermarket.
It now wants to demolish the original building to make way for 404 apartments.
The city council said it was in favour of more homes in the city centre.
Barberry bought the site in 2011 after the closure of the sorting office the previous year and said the failure to attract a supermarket was down to the credit crunch.
It said that once it had attracted an investment partner it could be on site within 12 months.
Councillor Kevin Maton, cabinet member for business, enterprise and employment, said: "This plan to create new apartments at Bishop Gate fits perfectly with our plans for the city centre as a whole.
"Our city centre needs more residents - people bring life and vitality during the day but critically into the evening too."
Barberry has yet to apply for planning permission.