Kenilworth School teacher car-jacked in front of pupils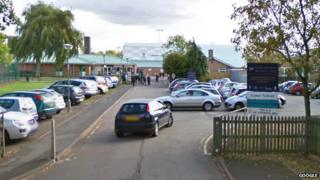 A teacher was car-jacked in front of pupils outside a Warwickshire school.
The 41-year-old man was attacked in the upper car park outside Kenilworth School & Sixth Form.
He was approached by two men wearing dark clothing who demanded his car keys, assaulted him and then drove off in his Ford Fiesta at around 16:00 BST on Monday, said police.
Headteacher Hayden Abbott said a small number of student witnesses were "understandably upset".
Witnesses
The teacher was treated at Warwick hospital for slight injuries and is now recovering at home.
Mr Abbott said he was told by police the teacher's car "was targeted rather than him as an individual".
He added: "This is clearly a very serious incident and we are liaising closely with the police.
"The students who witnessed the incident were looked after by members of staff until they were collected by parents."
Warwickshire Police is appealing for any witnesses who saw a blue Ford Fiesta with the registration BD14 VPV or a dark coloured BMW in the area at the time, to contact them.