Ricoh row: Coventry City Council's £500,000 legal bill for defending loan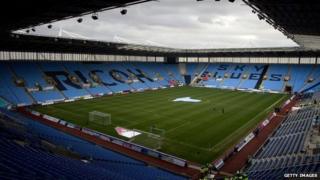 Coventry City Council has incurred a £500,000 legal bill from defending its £14.4m loan to the operators of the Ricoh Arena, it has been revealed.
A three-day independent judicial review on 30 June decided the authority acted lawfully in its use of public funds.
The loan was used to allow Ricoh's operators, Arena Coventry Limited (ACL), to pay off debts.
The council defended itself since Sisu, the owners of Coventry City Football Club, started proceedings last April.
Row over rents
The scale of the bill was revealed in a report to be considered by the council on 15 July.
The report recommends the council defend any subsequent appeal to the judicial review's decision.
Coventry City FC played at the stadium until the 2013-14 season and moved away after a row with ACL over rents.
The club has played its home games at Northampton Town's ground, about 34 miles (54km) from Coventry, since August.