Massey Ferguson tractor factory artwork unveiled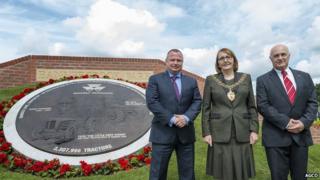 An artwork remembering the former Massey Ferguson tractor factory in Coventry has been unveiled.
The plaque depicts the first and last tractors at the Banner Lane site where more than 3.3 million machines were manufactured from 1946 to 2003.
Owners Agco stopped production at the plant, which had employed more than 5,000 people in the 1970s.
The artwork was unveiled at 11:00 BST at Bannerbrook Park in Tile Hill on the site of the former factory.
The unveiling was chosen for 6 July as this marked the date the first tractor left the assembly line 68 years ago.
'Great credit'
A portrait of Harry Ferguson, co-founder of the Massey Ferguson brand, is included in the plaque.
Grandson Jamie Sheldon, 57, who came from the Isle of Wight for the ceremony, said: "The portrait is very much like most of the portraits of him - he's peering through his glasses in his very focussed way.
"The monument is a great credit to all the people who worked there."
The 7ft (2.1m) wide plaque, commissioned by Massey Ferguson and Agco, was made over six months by sculptor Jemma Pearson.
The plant in Tile Hill made more than 3.3 million Ferguson and Massey Ferguson tractors.
Agco fully vacated the Banner Lane site in 2006 and established a European Office facility at Abbey Park, Stoneleigh, eight miles away, where it employs 500 people.
Homes have been built on the 97-acre site.
Professor David Bailey, from Aston Business School in Birmingham, said: "It was a symbol of Coventry's heyday in terms of manufacturing vehicles.
"It's a much more diverse city than it was 30 years ago economically but that means the city is much more resilient because it's more diverse. We're not dependent on the one sector - the auto sector.
"It's benefiting from more research and development and more work for the supply chain for vehicles in recent years."