FBU: 'Lives at risk' in Warwickshire firefighter cuts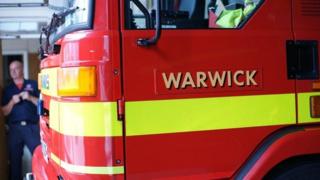 Lives could be at risk if the number of firefighters on each fire engine is reduced from five to four, according to the Fire Brigades Union (FBU).
Warwickshire Fire and Rescue Service has proposed the change as part of measures to save £2.4m.
The union said a fifth firefighter plays a vital role in supervising fire crews using breathing apparatus.
Andy Hickmott, Warwickshire's chief fire officer, said crew numbers were less relevant than other safety issues.
He said: "I don't believe firefighter safety stands or falls on whether or not a fire engine has a crew of four or a crew of five.
"How well equipped firefighters are, how well trained they are, how well supervised they are by their officers all are much more relevant issues."
A consultation, started in May, suggested the force could cut 30 firefighters, five control room staff and one fire engine to reduce its budget.
Marcus Giles, from the FBU, said: "If we deploy breathing apparatus (BA) into a house fire then we need a BA control, a driver who operates the pump and an incident commander, which is a crew of five."
Gary Keary is from the FBU in Manchester, where the reduction to four-firefighter crews was brought in two years ago.
He said: "We still believe it places our firefighters and the public at greater risk.
"Would they stand outside and suggest to a mother who's telling them her children are trapped in a burning house that they've got to wait for another fire engine to turn up, or do they deploy into the house and put themselves at an increased risk?"
Mr Hickmott has arranged to meet the FBU next week to discuss concerns.