Ricoh row: Coventry City FC rejects fans' rent offer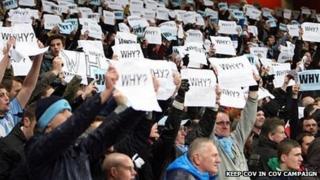 Coventry City FC has rejected an offer that fans said would have meant it could return to the Ricoh Arena.
A long-running rent dispute has seen the Sky Blues' home games played at Northampton Town's ground, about 34 miles (54km) from the ground.
Supporters group Keep Cov in Cov (KCIC) has offered to pay rent at the city's Ricoh while negotiations continue.
However Tim Fisher, Coventry City chief executive, said the issue was "about match day revenues" not rent.
"What we have asked for is that we keep and manage the revenues which are generated on match days," he said.
He said it was "absolutely extraordinary" the revenues went to the stadium's operators, Arena Coventry Limited (ACL).
'Burdened with debt'
On Monday Sisu, the football club's owners, said the result of a judicial review "removed any prospect" of its long-term return to the arena.
The review, called for by Sisu, found Coventry City Council had acted lawfully in loaning £14m to ACL to pay off debts.
The club said the ruling meant ACL would be "burdened with debt for the next 43 years" and would not be able to generate sufficient revenue to be financially viable.
But KCIC said the club and its owners should allow the fans group to pay rent and match day costs for up to three years, which was "the only offer on the table".
Michael Orton, KCIC co-ordinator, said: "KCIC has made an offer to Sisu that means we can be back at the Ricoh ready for the new season at no cost or financial risk to Sisu."
He said the group, which has 25,000 followers on social media sites, has the finances and proof of finances in place to honour such a deal.
Mr Orton, a Coventry City FC fan for more than 40 years, said there has been support from across the world as well as "incredible support" from people from other clubs for what was "an issue for local football".
More than 19,000 people have signed a petition to keep Coventry playing its home games in the city.
Ricoh: Rent timeline
•2005: Coventry City moves from Highfield Road to the Ricoh Arena
•April 2012: Club relegated to League One
•August 2012: Club taken to court by ACL for unpaid rent
•December 2012: Club asks for rent negotiations
•January 2013: Coventry City Council approves a £14m loan to ACL
•March 2013: Coventry City FC put into administration
•May 2013: Club announces plans to move from the Ricoh Arena
•June 2013: Administrators sell club to Otium
•August 2013: Coventry City play their first home game in Northampton, although many fans boycott the match
•November 2013: High Court agrees a judicial review into the £14m loan