Coventry City Council Ricoh Arena loan was lawful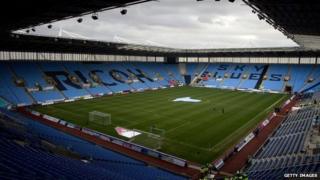 Coventry City Council acted lawfully in loaning £14m to the operators of the Ricoh Arena, a judge has ruled.
A three-day independent judicial review had been called to consider if the loan was an unlawful use of public funds.
The loan was used to allow Ricoh's operators, Arena Coventry Limited (ACL) to pay off debts.
Sisu, the owners of Coventry City Football Club, said the ruling "removed any prospect" of its long-term return to the stadium.
The club, which had called for the review, said it would apply for leave to appeal against the decision.
The rent dispute has seen the club play its home games at Northampton Town's ground, more than 30 miles (48 km) from Coventry, since August.
The leader of Coventry City Council, Ann Lucas, said the authority had "no choice" but to defend its decision in court.
"We are delighted that the judge has found the claimants' grounds for bringing the JR are totally invalid," Ms Lucas said.
"We were always confident we could robustly defend our unanimous and cross-party decision by all councillors at full council in January 2013 to support the new loan arrangement to ACL.
"The decision was taken in order to protect an important asset - the Ricoh Arena - which belongs to the people of Coventry."
The football club said the ruling meant ACL would be "burdened with debt for the next 43 years".
"With this level of debt there is no realistic prospect of any sports franchise or ACL being able to generate sufficient revenue to be commercially viable," it said.
"The football club and its owners believe that the loan, which exceeded the value of the stadium by almost 200%, was neither lawful nor in the interests of the supporters, taxpayers, stadium operators or the club."
However, Ms Lucas urged Sisu head Joy Seppala to consider returning to the Ricoh Arena, adding its "door remains open" to discussions.
"If Joy does not want - even now - to return the football club to its rightful home back here at the Ricoh Arena we would encourage the Football League to use its powers to ensure a rapid return to Coventry for the sake of thousands of Sky Blues fans," she said.
"We also urge Sisu to abandon further costly, lengthy and pointless appeals and focus on realistic ways of bringing the club home."