£5m bid to reopen Coventry Charterhouse as visitor attraction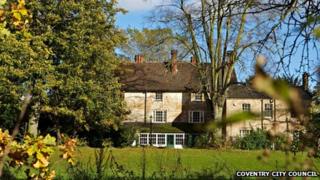 A charity is bidding for almost £5m of Heritage Lottery money to turn a former monastery into a tourist attraction.
The Grade I-listed Charterhouse, in Coventry, is a Carthusian monastery that dates from 1381.
The Charterhouse Coventry Preservation Trust has said it plans to restore the building, and 50 acres of land that surrounds it, as a visitor attraction and events venue.
If the bid is successful, the trust aims to open the venue in 2017/18.
"We would use the building as a history centre to tell the story of Coventry and also restore two monks' cells on the site," said Ian Harrabin, chairman of the trust.
He said the trust would also be applying to other sources to access the funding for the first phase of the scheme, estimated to cost around £8m.
The Charterhouse was previously used by the City College. Ownership of the building was passed to the Charterhouse Trust in November 2012.
In 2013 it was placed on English Heritage's At Risk register.
Mr Harrabin said the trust also hoped to submit bids to restore four other listed buildings in Coventry, currently in public and private ownership.
"We aim to become the custodian of several of the city's heritage buildings - sort of like a mini-National Trust for Coventry," he said.
"Coventry has lost enough buildings now. We would aim to restore these buildings and look for sympathetic ways of generating revenue from them."