Daniel Pelka death: Coventry has new child services boss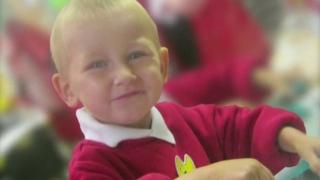 Coventry's children's services - rated inadequate after four-year-old Daniel Pelka's death - has a new boss.
Daniel died in March 2012, having been starved and abused by his mother and her boyfriend.
Yolanda Corden has been appointed Coventry's interim head, replacing former boss Andy Pepper.
Ms Corden was Sandwell Council's Interim Head of Children's Social Care until November. Sandwell is also currently rated inadequate.
Councillor Damian Gannon, who is in charge of finance, told full council on Tuesday the £4m set aside for the authority's post-Ofsted improvement plan this year was not believed to be enough, so £5.6m has been pledged for children's services.
Councillor Ed Ruane, who now oversees children's services, added: "We fully recognise the scale of the challenges that remain and we need to quicken up the pace of change."
A resource centre for police and social services to work together on child protection cases in Coventry, which had been delayed, is now due to be "up and running" by September at Christchurch House.