George Eliot Hospital: Review of wards to cut £10m debt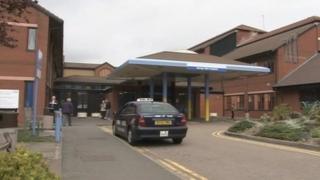 Wards at a Warwickshire hospital put in special measures could be closed during "quieter months" to cut its £10m debt.
Plans for the George Eliot Hospital also include recruiting more permanent clinical staff to reduce spending on agency workers.
The hospital's finance director Shahana Khan said: "The highest priority of the board remains the quality and safety of our patients.
"However, we are also not complacent on addressing the financial pressures."
Last year, bids were invited from other NHS trusts and private firms to take on the struggling Nuneaton hospital.
Earlier this year, the NHS Trust Development Authority said George Eliot would no longer face a takeover.
It said it had made "significant improvements".
The hospital's debts were highlighted in research by the Labour party.
It said figures came from Monitor, the NHS Trust Development Authority and the House of Commons Library.