Coventry Tollbar End roadworks: Plea for driver patience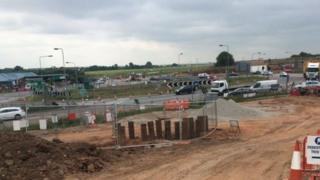 Motorists frustrated by a £105m Coventry roadworks scheme have been assured everything is being done to get it finished as soon as possible.
Businesses have been complaining about heavy congestion around the Tollbar End roundabout since the three-year scheme began about six months ago.
The work will see the roundabout's size increased and an underpass created, taking 45 per cent of the traffic.
More than 100,000 tonnes of soil have been dug up so far.
Project manager Paul Nagra, from the Highways Agency, said: "We would urge people to bear with us while this is going on.
"We are doing everything we can to speed up the works. We are constantly monitoring the traffic.
"But we need to do this so future drivers benefit."
'Kamikaze island'
A compulsory purchase order was served on the Coventry Island Hotel so the project could go ahead. The building has since been demolished.
But residents and business owners who feel they have suffered exceptional hardship as a result of the scheme will have to wait until it is completed before they can apply for compensation.
Meanwhile, Mr Nagra who described the junction as "kamikaze island" revealed temporary fencing had been put up to stop people risking their safety by crossing the A45 from Rowley Road to get to Stonehouse Lane.
He also said a cyclist had recently been spotted riding up the dual carriageway in the wrong direction - towards oncoming traffic.
The Highways Agency aims to finish the work by June 2016.