Stratford NHS money 'should not go to town BID' says surgery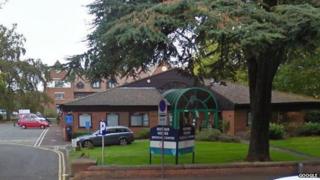 Healthcare professionals in Stratford-upon-Avon have said it is "not right" they are having to spend thousands of pounds of NHS money on town regeneration schemes.
Medical practices and the town's hospital have all been told they must contribute towards Stratforward, the Business Improvement District (BID).
One practice, the Rother House Medical Centre, said it will not pay the levy.
However Stratforward said it supported "all business types".
'Fair to all'
Tom Ganner, practice manager for Rother House, said: "I don't think anybody would disagree with the concept of supporting local businesses to increase tourism in the town but it isn't what NHS money should be used for."
Mr Ganner said the practice had not paid any of its £1,100 annual levy for 2014-15 and did not want to pay it. He said NHS dentists and the town hospital had also been billed.
"I thought it was an oversight but it would appear not," he said. "It's taking money away from treating ill patients."
Stratford Hospital said it had paid £10,402 since the levy was introduced in 2009.
A spokesperson said: "We have raised an objection in the past as we did not feel this charge was relevant to our organisation but we were told all business rate payers must pay it."
However, BID manager Karen Wild said all businesses had been consulted prior to the levy being introduced.
She said the levy was devised in a way that "ensured fairness to all business rate payers" and said Stratforward was not just about improving tourism.
"We deal with matters like improving cleanliness and security and provide business support and networking," she said.
She declined to comment on whether the practice could be taken to court for non-payment of the levy but said she hoped the matter could be resolved "in a positive way".