Warwickshire County Council plans charges for adult care services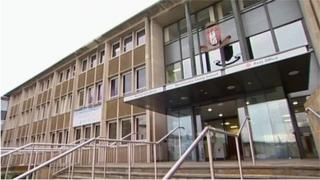 Plans to introduce charges of up to £15 an hour for some adult care services have been put forward by a local authority.
Warwickshire County Council said it aimed to make its charges "consistent".
Gillian Grason-Smith, a carer from Little Kineton in Warwickshire, said the changes could have a "desperate" effect on people.
Experts said many councils had already brought in the charges, which will be introduced on eight different services.
Savings of £92m
They include residential respite care, live-in support and a service for full-time carers called Take A Break.
The council said 148 people currently use its free Take A Break service. It plans to charge £7.77 per hour from November, increasing to £15.54 in April.
The proposals were agreed at the council's adult social care and health overview and scrutiny committee meeting earlier.
The authority needs to save £92m by 2018.
Mrs Grason-Smith, who looks after her husband who has Parkinson's disease, said carers' health was being put on the line by the changes.
"I appreciate [councils] have to cut back but I think they have to look at how desperate people get," she said.
"Something's going to have to give and quite often it's the carer's health. Then, of course, the cared-for person is back on the state."
John Bolton, former head of adult care at Coventry and Warwickshire councils, said it had always been accepted people had to pay for social services.
"Warwickshire are late to do this compared to other councils across the country, including Coventry," he said.
"You've got to bear in mind all these charges are means tested. So you only pay if you can afford to pay."